The only service for premium, custom family cookbooks
We do more than make books; we tell stories across generations.
Family recipe cards are as treasured an heirloom as the family photos and videos we see every day. What makes them special is not just the recipes themselves, but the visual reminder of every stain, tear and fold that shows these recipe cards have been well-used and well-loved.
EverPresent preserves family memories for generations, and our design team uses the best tools and techniques to bring your project to life. Invest in your legacy with a breathtaking family heirloom cookbook from our photo book experts.
Click the cookbook to view the inside!
Each family cookbook is a keepsake you won't find anywhere else!
Every page, personalized
Step 1 – Recipe Selection
Step 2 – Meet Your Designer
Step 3 – Proofing & Approval
Step 4 – Receive Your Book
Our Full Heirloom CookBook in 30 Seconds
Premium Layflat
Sturdy layflat pages help your book stay open for easy recipe reading.
Multiple size options
Choose from a number of sizes in square, portrait or landscape orientations.
Countless cover options
Choose from a variety of different cover choices to best suit your needs!
Some projects we've done:
Reproduced full-page scans of a grandmother's handmade cookbook as a gift for a special professional chef … her own grandson!
Cookbooks with custom backgrounds: a used cutting board for a rustic kitchen feel, accents with grandma's favorite bird (the cardinal), and a blue-and-white pattern like her dining room walls.
Scanned dozens of recipe cards and magazine clippings for a home-cooking photo book with all of our client's family favorites.
Commemorative standard-bound hardcover copies of a recipe book PDF the client had already put together.
Family Heirloom Cookbooks – From Our Blog
Part One: Organizing Family Recipe Cards
Hundreds of recipes in cards, clippings, and printouts. How to select and sort your family's favorites.
Read more on recipe cards…
Part Two: Photos, Family History & Digitizing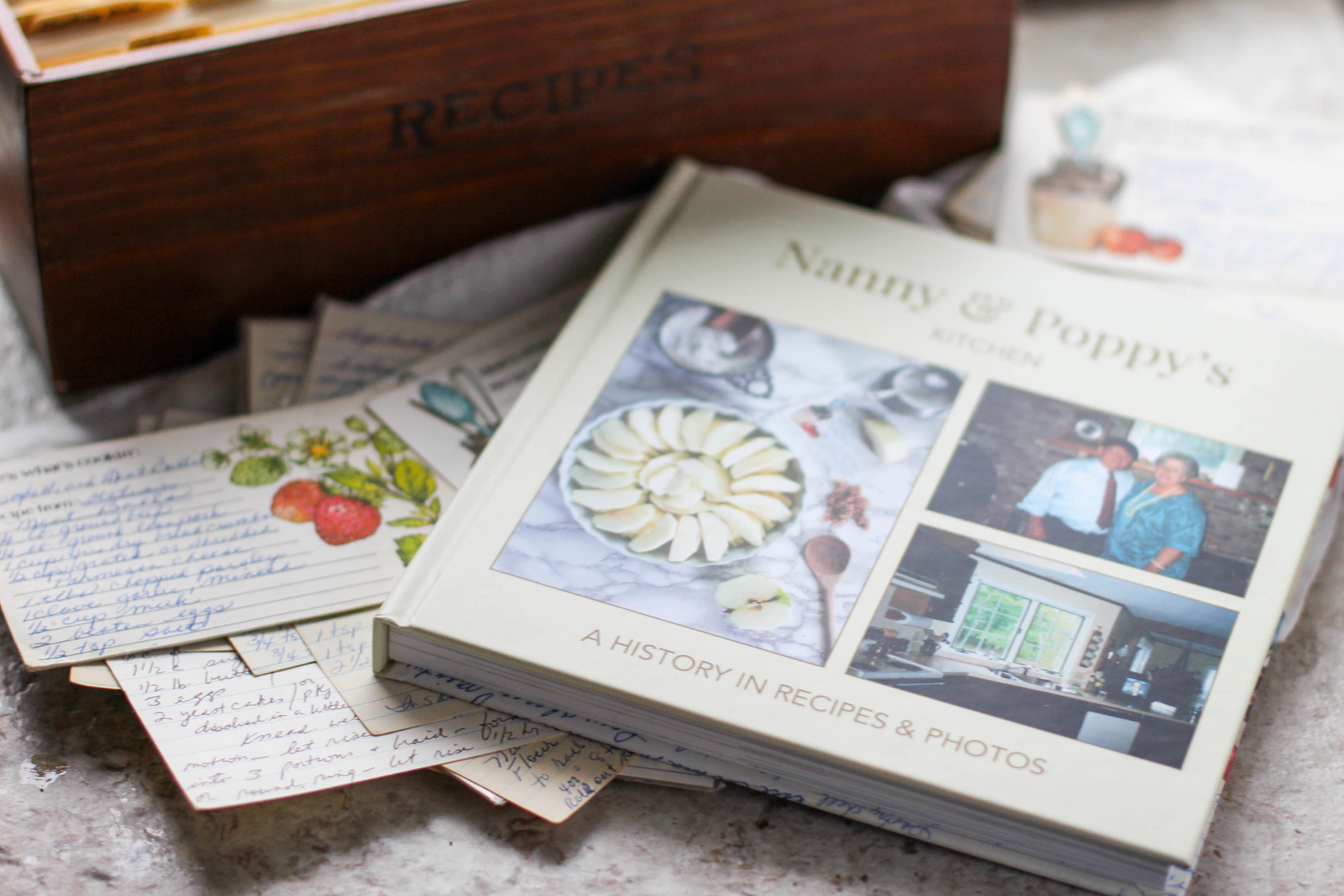 Part Three: Designing Your Heirloom Family Recipe Book
Susan W.
A children's book editor in another life, Susan's fastidious attention to detail has guided countless projects to completion to the delight of our clients.
Ellen F.
Ellen's talents span photo book design and graphic design. Her versatility is paired with a professional and creative approach to every project.
We want to make you something memorable!
866-363-3351
We want to hear from you!
DETAILS & LOGISTICS
Photo Books and albums are a beautiful, meaningful gift. They can be as simple as 20 photographs, or as involved as a family history.
You only pay for the design once, which costs $95/hour. After that, you are only paying printing costs. We offer very basic printing options in the $50/book range, and high-end wedding album-style printing options that cost much more. Photo Books generally start at around $300-$600 all-inclusive. Please contact us for a free consultation, let us know what you have in mind, and we can refine an estimate for you. The sooner we figure out your project timeline, the better!