Twenty years ago the Hubble Telescope was launched into space, Nelson Mandela was elected President of South Africa and you started holding your
8mm camcorders in the palm of your hand.
That's right, it was only 20 years ago that the video capture technology of 8mm tapes (also known as Hi8 or Digital 8) were first introduced to the market. The size of these tapes and the size of the camera that went with them was a major advantage over their full-size predecessors when shooting videos.
8mm camcorders were also better able to capture audio than VHS and BETA.
If you have 8mm film reels, you can visit our 8mm film to DVD page
If you have other tape formats, you can visit our video page here!
Hi8 tapes' major competition for home movies came from
VHS-c tapes
.  VHS-c were the small tapes that fit into full-size VHS adapters, which was convenient for use in the VCRs most people already owned and 8mm tapes did not. But the higher quality and 120-minute+ capacity of the Hi8 tapes (vs. the 45 minute capacity of the VHS-c tape), helped 8mm tapes become successful. However,
8mm tapes were not relevantly more durable than their VHS counterparts
in terms of longevity, which means it's time to convert your 8mm tapes to DVD or digital so they are preserved before it's too late.  They only have a shelf life of 15 years! While you prepare for this project,
we recommend storing your 8mm tapes vertically
, away from sunlight to keep deterioration from accelerating.
We have cutting-edge 8mm tape converter solutions and can help guide you through the entire process and convert 8mm video cassettes to digital in the safest and most effective way possible.
Everything you need to know
about 8mm tapes to DVD
Common video transfer questions
How long is an 8mm tape?
All 8mm tapes, whether they are Hi8 or Digital8 hold up to two hours of footage. So when you're converting your 8mm tapes to DVD, at least one full tape always fits onto a single DVD, but it's possible to fit more if they are not all full or dual layer DVDs are used.  If you choose to transfer to a USB or external hard drive, all your 8mm tapes can fit onto a single drive!
Is my tape Hi8 or Digital8?
Hi8 and Digital8 tapes look almost identical to the average user, but they will say on them which format they are. Some cameras also only took Digital8 tapes, so don't assume digitizing is impossible if you view a tape at home in your camera and it seems blank or garbled.  The camera device may not be compatible.
How do I watch my 8mm tape?
You'd need to still have your 8mm camcorder to watch an 8mm tape these days.  Unlike VCRs, which use VHS tapes, there are not cost-effective 8mm decks to buy, but you can either watch directly on your camera using the playback options, or use cables to connect it to a TV and watch from there. Trust us though, it's much easier to convert 8mm tape to digital and watch your collection on your computer or a new DVD!
8mm to DVD – From Our Blog
Understanding 8mm tapes
Didn't get enough info about Hi8, Digital8 or Video8 tapes above? We have more history and technical information about 8mm tapes to DVD here.
Read more about 8mm tapes…
5 Possible Tape Issues
Your 8mm tapes are probably in great shape to convert to DVD, but there a number of common problems with 8mm tapes that we find when digitizing.
Read more about 8mm tape repairs…
Can you save moldy tapes?
Minor mold is still ok for 8mm to DVD! Serious mold requires chemical treatments & can severely damage the audio/video quality of your 8mm tape to dvd transfer.
Read about preserving moldy tapes…
"Last summer I came across my two boxes of stored video tapes, spanning more than two decades of my family's life from before kids to college graduations. I worried those memories might degrade in those boxes and be lost forever. Fortunately I found EverPresent Throughout the process, the staff at EverPresent was readily available whenever I called. Each person I spoke with was as pleasant to deal with as the next. They promised to be able to transcribe our recordings from three different (obsolete) video formats to modern digital format. I received another courtesy call when my project was finished and on its way to the drop off in Connecticut. The final result was excellent…what a trip down memory lane! I have used EverPresent five times now, each time as smooth as the first. I would heartily recommend EverPresent to anyone interested in preserving their important memories for posterity."
Warren M.
Farmington, CT
We're Local. And the most convenient.
Three easy ways to work with us:
We have over 50 locations in MA, NH, RI, ME, CT, NJ, NY & PA. Our clients almost never have to drive more than 30 minutes to see us.
If shipping is easiest, we'll send you a box with prepaid shipping labels to save you a trip to the post office. *NOTE: ship kits do not include the cost of digitizing or post-project return shipping*
Starting at $24.99, choose box at checkout
If you prefer to do the shipping, let us know to reserve space in our schedule for your tapes and we'll be expecting them!
*Our ship kits do not include the cost of digitizing or return shipping*
If none of these options work for you, we also offer in-home consultations throughout the Northeast.
Pricing
Digital Only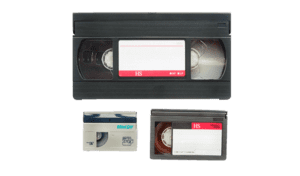 *tape
A less expensive way to digitize tapes when you aren't sure of the content but you want to make sure your memories are preserved
Easy to download, edit and make copies later
Site live for 180 days
Standard
*tape
Included high grade USB or DVD allows for easy enjoyment and a redundant form of backup
Included transcription of labels keeps things organized
Includes the digital download files for 180 days for unlimited sharing with loved ones while avoiding cost of extra copies
A one-time $40 service fee applies to all orders. This service fee provides for safe handling procedures including: intake, item barcoding, physical & digital storage, quality checks by senior technicians and packaging. All orders come with 180 days of free access to downloadable, Mac/PC compatible video files via your own private, password-protected website. Our standard package also includes custom labeling and your choice of DVD or USB flash drive. Your originals are always returned to you at the end of the project.
Thank you for supporting local business
Extras & Details
Extra DVD or CD: $15 Standard, $20 Archival
Extra USB: ask your consultant
Add label transcription to Digital Only: $2/tape
Private website free for 6 months
ALL OF OUR SERVICES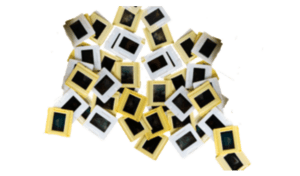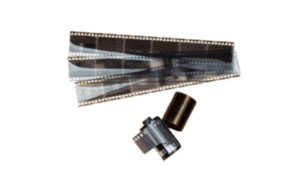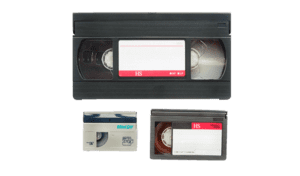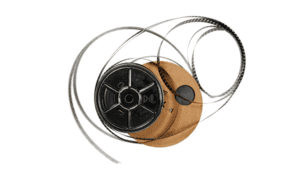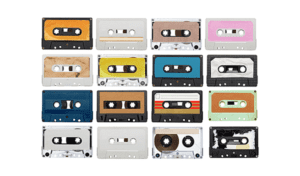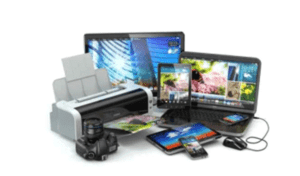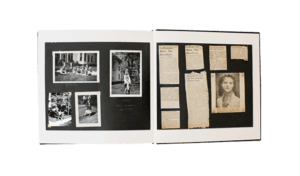 Get an estimate on your 8mm tapes to DVD project!
Fill out our form or call to speak to a consultant
FREQUENTLY ASKED QUESTIONS
How do I tell if my tapes are 8mm?
This is an important question because if you are buying a player to preview tapes at home or an 8mm tape converter digitize them at home, you want to make sure you buy the correct equipment. The simplest way is to measure the tape. If it's roughly 2.4″ by 3.7″, then it's an 8mm tape. That said, the 8mm video tape is very, very similar in dimensions to standard audio tapes. Our clients get this confused all the time. Therefore, do check your tapes for the label "Hi8" or "Digital8" or "8mm". If you see any of those monikers, it means you are looking to digitize an 8mm video tapes and can proceed accordingly on the 8mm tape converter and other equipment front.
What quality benefits do I get from using a professional service to convert my Hi8 tapes to digital?
There's a certain quality control aspect that you'll get with a proper digitizing service, but in theory, you can replicate that care at home with an 8mm tape converter. The biggest difference is the equipment. Our machines for 8mm tape transfer all-in cost over $5,000 and benefit from over $100,000 of adjacent supporting equipment and software. Part of it manifests in stable transfer connections that are superior to the USB based at-home transfer solutions. If you are looking for the best possible files, a professional service may be able to offer you not just .mp4 h264 files, but potentially larger files like ProRes or AVI that allow for professional level editing. People can absolutely get solid digital conversions at home, but if you hire the right service, you will get what you pay for.
Where can I find a player to preview my 8mm tapes?
You have two choices here. You can look into a proper 8mm video tape player, basically a cousin to a VCR. But they are very expensive – you're looking at $1,000 minimum for a decent one. If you are looking to digitize over 100 tapes at home, this might be worthwhile. But for previewing files, your best bet is to actually find an old handheld 8mm camera. The 8mm cameras are much cheaper, likely under $300, and they all had preview screens and the ability to plug RCA cables into a TV to export the pictures. This is the way to go.
Is it worth attempting to digitize my 8mm tapes at home?
The decision to choose a digitizing service vs. attempting to convert to digital at home is a tough one. If you have just a handful of 8mm tapes, it will almost certainly be more cost effective to use a service dedicated to transferring outdated media files. If you have many dozens, you may save money at home, as long as you have the time and inclination. There's no way to speed up the tapes, so if you have 30 two hour Hi8 tapes, you are looking at 60 hours of babysitting the digitizing process. From a cost perspective, you may be able to set up your own rig for under $500 if you can find a decent camera online to play the tapes. It's important to keep in mind that each tape, whether Hi8 or Digital8, is going to create a few gigabytes of data, so you need space on your internal hard drive, and likely an external hard drive of at least 250GB to store the finalized files.